Hello, and Welcome to SpdZn.com - "Speed-Zone" - We are so fast we had to abbreviate!

Please note: www.SpdZn.com, was previously www.SpeedZoneAhead.com, but there can be only one.
Here you will find accessories for the Yamaha: FJR1300, FZ1, Road Star, Kawasaki: Concours14, and the Honda: ST1300 and many others as some of our designs are pretty universal. You won't find any mainstream stuff here, oh-no, only uniquely designed accessories, that are a perfect match to the fit and finish of the host vehicle they will be added to for a "Factory-Custom" look.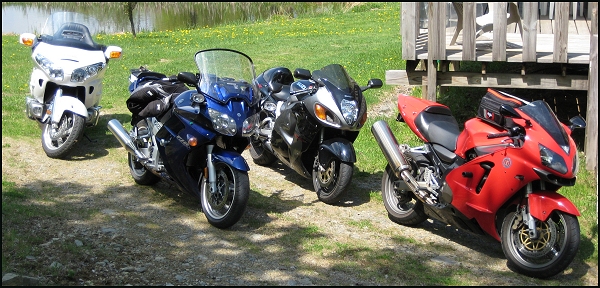 We want to thank everyone who has made SpdZn such a great success! We have become somewhat obsessed with our Yamaha FJR1300's and as you can see SpdZn has developed quite a few ideas and "farkles" to this fine machine. SpdZn has been selling these kits direct and on eBay to the awesome world of Super Sport Touring for many many years now. You can still get our items on eBay, but you can also order through this website which is the JF-Industries-Ltd [JFiLtd] central distribution site: www.MiscellaneousMerchandise.com. For eBay you can use the link at the top to see what we are listing at any given time. For extra confidence in dealing with us: Please see our feedback on eBay; use the link at the top, as you can see it is 100% positive and our products are very well received, and this is only the sales on eBay, I wish I had feedback from all the private & non-eBay sales to show! =)
To purchase items, just click on the "add to cart" button by the item, or you can visit the central distributor site for all JF-Industries-Ltd [JFiLtd] products: www.MiscellaneousMerchandise.com where everything JFiLtd manufactures is available. MiscellaneousMerchandise.com is the central online store front hub for everything JFiLtd sells online.
Quick Descriptions of our Products
*For the full Details about each item; Click the "Details" button in each section:
For The Following Sport Touring Motorcycles:

Yamaha FJR1300

Kawasaki Concours 14

Honda ST1300

Hot Gas Tank Heat Fix Insulation Kit

Is your ride one of the HOT ones? Get this now!

*NEW IMPROVED WATERPROOF VERSION*

Click on icons for more information

Shipping to the Continental USA is included

There are no additional charges
Click on icons for more information

For the Following Motorcycles:

Yamaha FJR1300 & FZ1 - Plus Many Others!

All Stainless Steel Exhaust Heel Heat Shield Guard

Will Never Rust, Ever!

Even the Hardware is All Stainless Steel

"Stop Melting Your Heels Now!"

Get the Ultimate Exhaust Guard Now!
For The Following Motorcycles:

Yamaha FJR1300

Honda Goldwing

Kawasaki Concours14

Honda ST1300

*Virtually any Motorcycle with a Windshield

Custom Quiet Edge Kit

New Improved Version For All Windshields

Easy Push-On Installation - No Tools or Tape

Click on icons for more information

*Please indicate Windshield thickness in millimeters or inches.

Shipping to the Continental USA is included

There are no additional charges
Click on icons for more information

Super Powerful Oil Filter Magnet

For All Motorcycles with Oil Filters

Make Your Oil That Much Cleaner

Super Easy Install Takes Only Seconds

See Our Very Own Test Results By

Clicking the Icons to the Left, ...over there.

Shipping to the Continental USA is included

There are no additional charges
For Motorcycles with Clutch & Brake Levers

Fits All Standard Levers Large and Small

Make Your Bike Stand Out in the Bike Lines

Keeps Gloves From Turning Black

Super Easy Install Takes Only 5-10 Minutes

Shipping to the Continental USA is included

There are no additional charges

Click on icons for more information

---
---
---
FULL DETAILS ABOUT EACH PRODUCT BELOW:
---
---
---
SpdZn's Super Sport Touring Motorcycle Hot Gas Tank Heat Fix Kit



*Fits Yamaha FJR1300, Kawasaki Concours14, and Honda ST1300*
*Also Fits Other Similar Liquid Cooled "Hot" Bikes - Universal*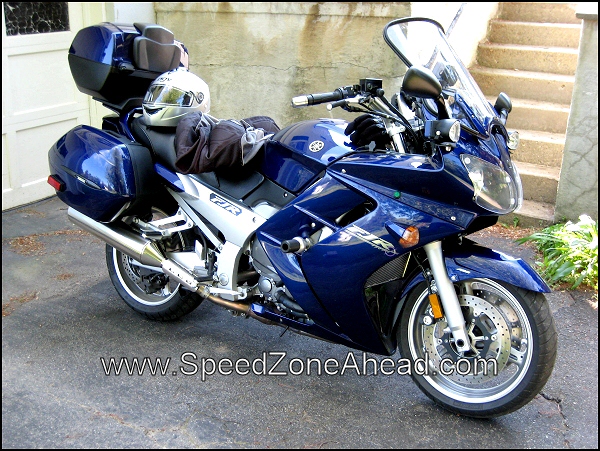 This is a heat fix kit is comprised of one piece of carefully cut and shaped automotive, industrial, metal foil lined, heat and sound insulation material developed specifically for the intended use of blocking heat and heat radiation.
Many FJR1300 and other sport touring motorcycle owners have described a problem, ...the bike gives off too much heat under the gas tank. Some even report they will not ride the bike if the gas tank gets close to empty, as they fear the risk of a possible explosion. Others have come up with fixes of plumbers pipe insulation and other various home remedies, etc. I have installed this on my own FJR (above) to basically just keep the tank cooler as it sits over a 1298cc-145 horsepower, in-line 4 cylinder power house. I did notice the tank would get pretty warm and didn't like this situation -although it never got too hot to touch. Some FJR riders complain about excessive heat near the crotch area on this particular bike and Yamaha has redesigned the 2006/2007/2008 models to be more effective in routing the heat away from the driver, ...I see this as a good indication there really is a bit of a problem on the 2005 and previous model year bikes. But I have sold this kit to so many FJR owners of model years after 2005 that I can easily say it helps all model years FJR1300's.
For those of you that don't want to give up any power while sport touring and eating up mile after mile of asphalt, ...I have had numerous requests for a heat fix kit for the new Kawasaki Concours 14, and even more requests for a kit for the Honda ST1300. I have been making heat fix kits for the FJR1300 since I purchased mine back in 2005. Due to receiving too many emails and inquiries to ignore anymore, I have designed this kit as a universal heat fix kit for all you proud owners of REALLY HOT BIKES (no pun intended) such as the Honda ST1300 and the new Kawasaki Concours 14. This kit has been tested on thousands of C14's and ST1300's with nothing but satisfied, cool, ...now even cooler, customers. This kit fits the Yamaha FJR1300, the Kawasaki Concours14 and the Honda ST1300.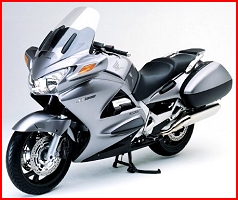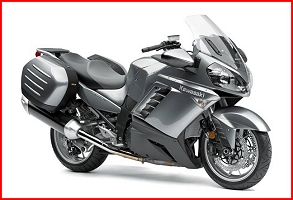 So here you have a real world solution, a specific insulation material, precut to install in under 30 minutes! All that is required is to raise up the gas tank, insert insulation, lower the tank, it is that simple! The tank barely gets warm after hours and hours of riding after this modification, ...which I feel Yamaha should have at least offered to pre-2006 FJR owners, there has been enough complaining about the problem on the internet anyway. I think the total fix for the heat problem is to install this insulation and conduct a throttle synchronization, or have your favorite Yamaha certified tech do this, then I bet all your heat problems disappear.
As shown as installed on my own FJR1300: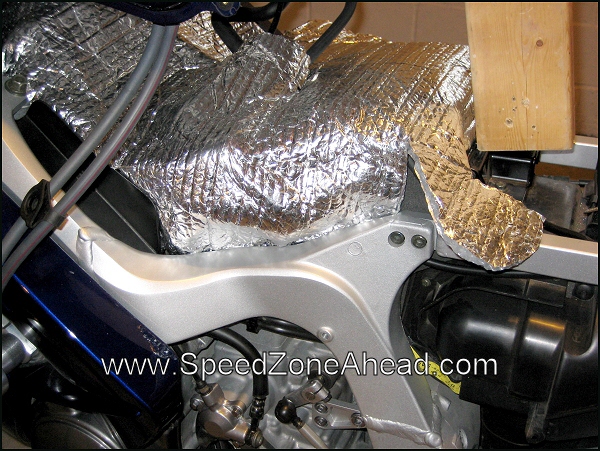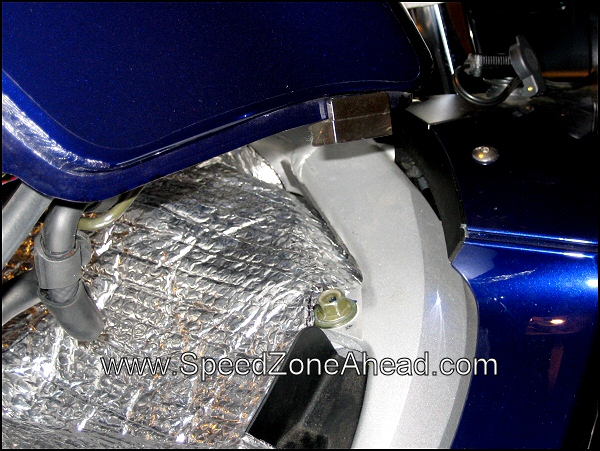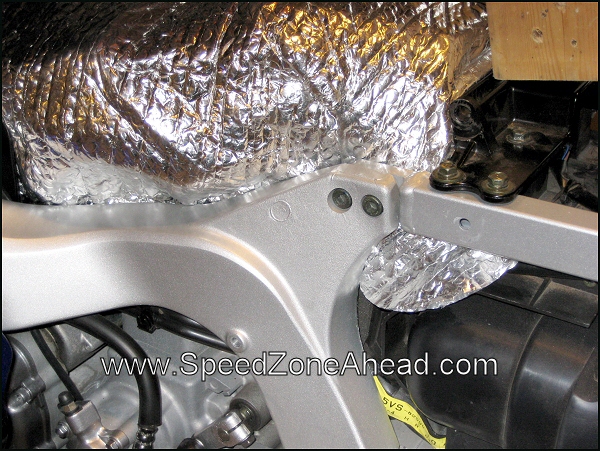 You will receive a specifically cut shape of this double sided metal foil lined insulation material. This insulation was designed specifically as a heat barrier and reflector. Fits very easily under the gas tank and still allows the engine to run at normal temperatures and does not block airflow, I have put over 50K miles on my personal 2005 FJR with this installed and it runs just like it did without the insulation, except the gas tank and frame is much cooler and therefore much more enjoyable to ride and ride and ride, you get the idea.
PS: Don't do what I did, order insulation, wait, wait, wait, find out its back-ordered, finally get it, it shows up damaged, try to make the right shape, get blisters on your hands from using the wrong scissors to cut it, use a box cutter and cut yourself, go crazy trying to get the right shape, etc, etc, and end up with a mess to clean up: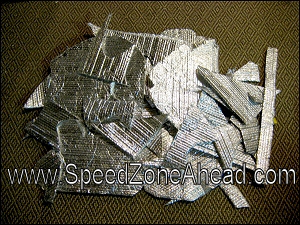 ***This is a newer version of a kit; which I have been selling with nothing but success since 2006, this new material is 100% waterproof [does not absorb water], ...it has a higher heat blocking index rating and is more durable than the older style kit making it more ideal for those motorcyclists that like to take advantage of the heat in the winter and remove the insulation during that season to keep warm. The older kit was a two piece, single foil sided compressed-treated fabric type material, the actual insulation was blue in color. (in case you were wondering). The new version is foil lined on both sides, it is thinner and lighter, it is a single one-piece design, can be modified easily, and it also has tabs which "pull-through" to make installation easier and tighter for better heat blocking than the previously design/material. Thousands of these kits have been sold around the world, and everyone agrees: this is the kit to get!

---
---
---
SpdZn's Universal Stainless Steel Exhaust Heat Shield Heat Guard




Yamaha FZ-1 Stainless Steel Exhaust Heat Shield Heat Guard

Designed for the Yamaha FJR1300, Yamaha FZ-1, and Fits Many Other Bikes Too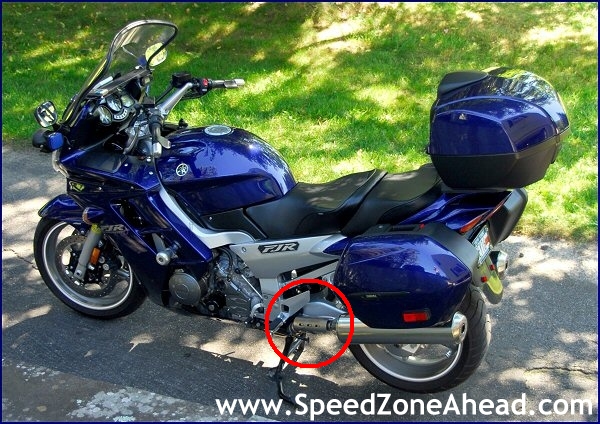 This is an all stainless steel construction, precision laser cut and vented, high quality exhaust shield. Question: Are you melting the heels of your expensive riding boots on the exhaust pipes behind the foot pegs on your FJR1300 Super Sport touring road mile eating machine? Do you have to clean the burnt, brown/black stuff from your heels off the exhaust pipes?
Well, Here are 7" inch quality stainless steel heat shields with an all stainless steel installation system which installs just over the section of your exhaust outlet pipes which your heel melts onto while riding. Once installed these look like they came with the bike from the factory! Every time I go riding I am asked where to get these, and not only by FJR riders, but any bike where hot exhaust pipes are a problem. these exhaust shields can fit larger and smaller pipes than just the FJR's pipes, ...I would say +/- up to a half inch and it would work, but these where designed originally for the FJR! Everyone loves the vented functionality and look, which is also part of the secret to the unique hidden mounting system.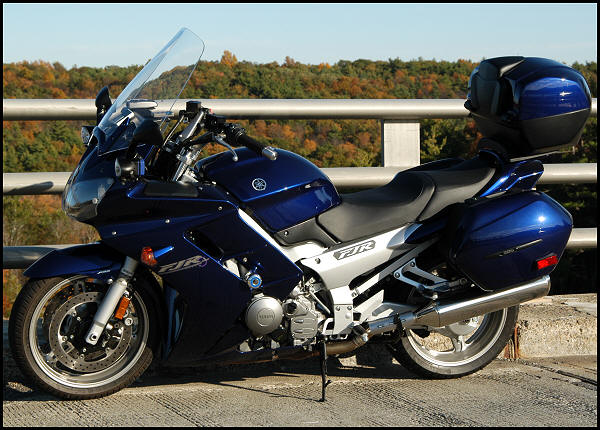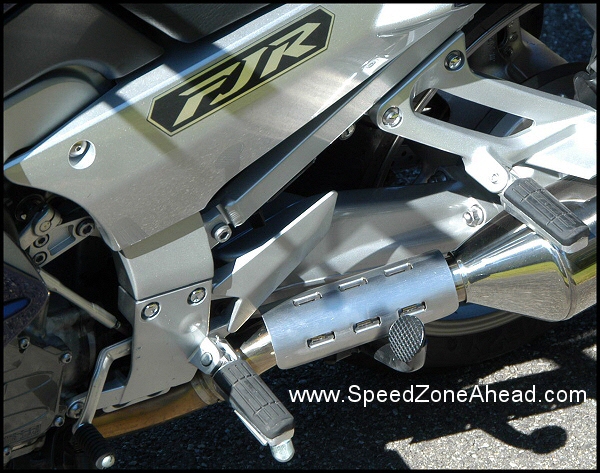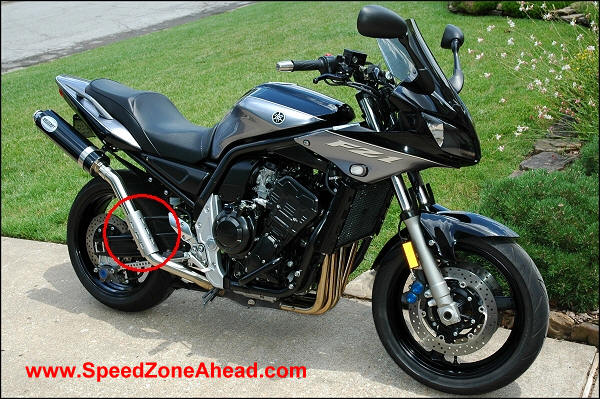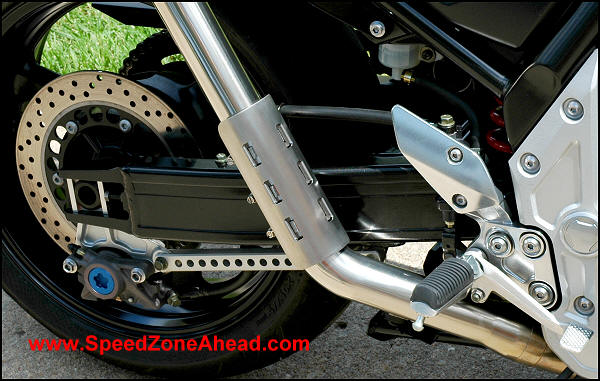 They are perfectly curved for a complimentary fit immediately out of the box for the FJR1300 and the FZ-1, and specifically designed for these application, but will also fit many other exhaust pipes too. You can see them installed above and below; they are an exact fit, and don't interfere with the center stand or the side stand, very easy to install, takes all of about a hlaf hour and you will never melt another shoe, boot, or sneaker on your pipes again! All required mounting hardware, which is also all stainless steel, is always included with items from SpdZn! Thousands of kits sold around the world, and everyone agrees: this is the kit to get!

---
---
---
SpdZn's Super Sport Touring Motorcycle "Finished-Look" Windshield Edging Kit



Also Fits Honda Goldwings, ST1300's and Kawasaki Concours14's and Many Other Touring Shields
Quality rubber and vinyl edging material specifically designed to fit the edge of windshields. Resists weather and will not mark-up the windshield. Quiets air noise coming over the top of the windshield by creating a break in the airflow and changing the eddy currents over the lip of the windshield. Also provides a nice finished look and protects the edge of your screen from accidental hits resulting in chips, or if you already have a chip you can cover it up with this edging and forget about it. Also gives a nice looking "Road-Ahead Cockpit" appearance when riding, somehow helps gauge distance and gives a better sense that you are on a motor vehicle, "feel" to the operator. One last observation I made, at night my windshield edges would light-up from the headlight illumination, this totally eliminates any glare coming off the edges of the windshield from the headlights, very helpful at night!
Below are some photos of what this item looks like installed onto a Cee Baileys aftermarket +4, +3 inch windshield, really gives a finished look!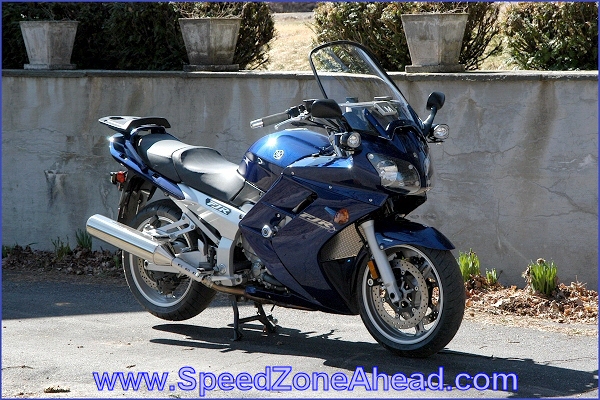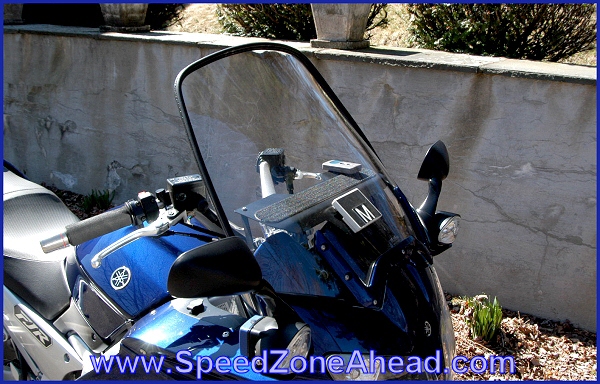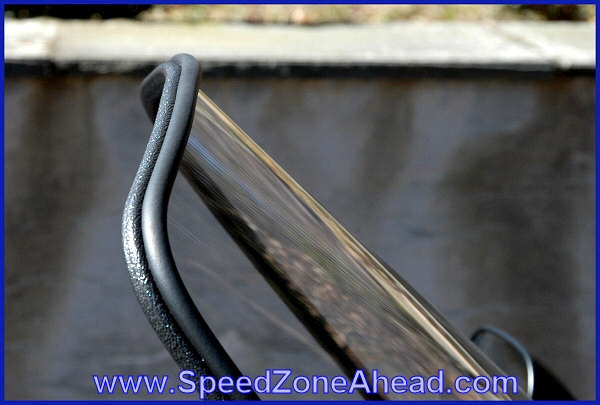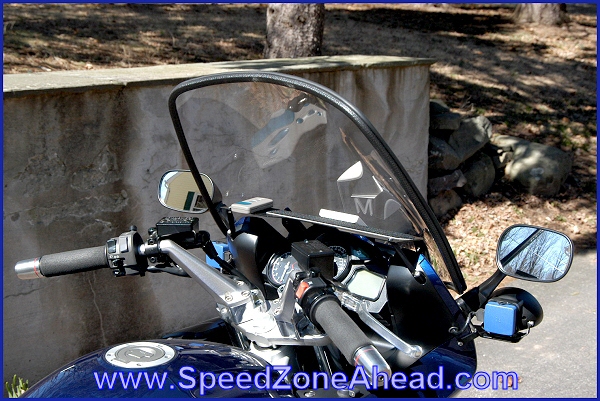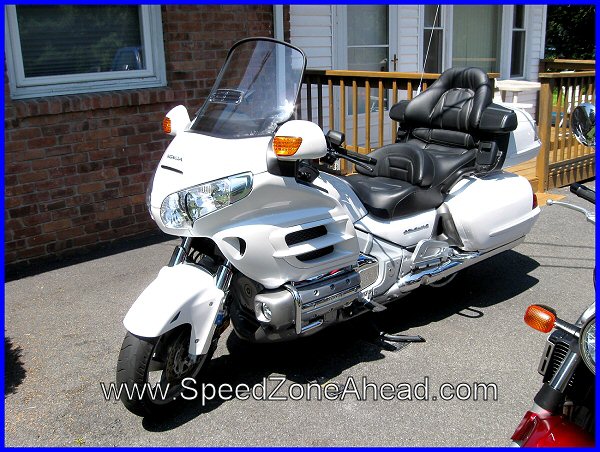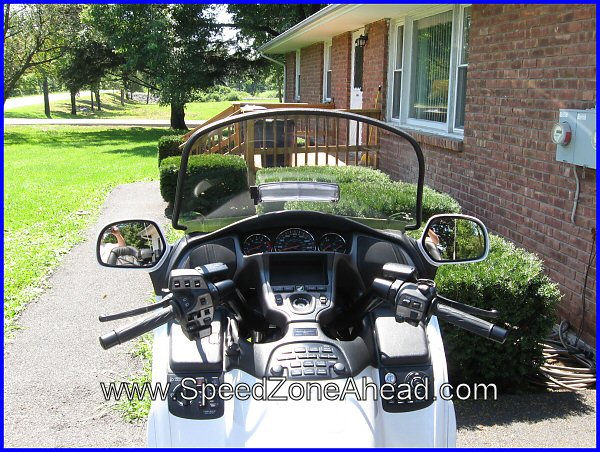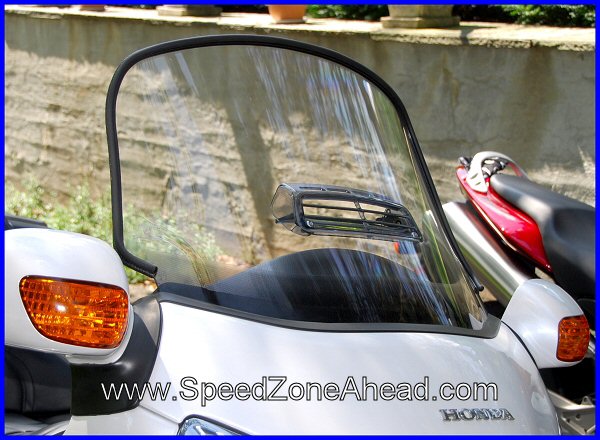 This can be removed for cleaning both the edging and cleaning the windshield and reinstalled easily, although I have found you can just leave it on. No drilling, nor does this kit use double sided sticky tape like other kits. This edging simply presses onto your windshield's edge with a nice snug friction lock and holds steady and secure, no glues either. This is available for any windshield. If you think you have an excessively thick or thin shield please provide the thickness of the original windshield in millimeters when ordering for an exact fit.

---
---
---
Super Powerful Oil Filter Super Magnet : See For Yourself Our Own Test Results


Ok. I know we have all heard all the stories about oil filter magnets and how they can aid in the filtration of our oil. Does anyone believe it? Well, you are about to see cold hard proof it does indeed do something, please read on if for nothing else shear entertainment.
I have heard of people using magnetic drain plugs, even inserting magnets into their oil filters, ...here is what I did. First I installed one of these magnets I purchased for about $30 from some oil filter magnet website and proceeded to ride this past summer of 2007. You can clearly see the magnet on the oil filter below, it is a bit larger than the size of a quarter and about 1/8" thick: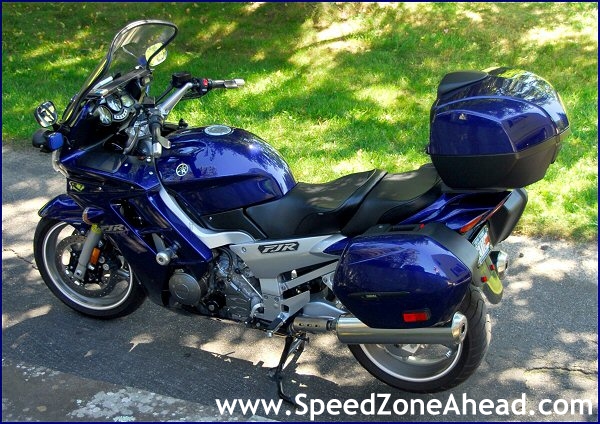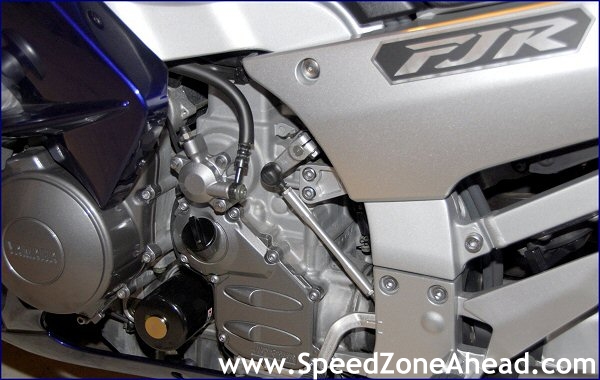 I put the usual 3,000 miles on ...then it was time for the next oil change. I was extremely careful not to disturb the magnet while removing the filter. I knew my intentions. Then I replaced the filter and the oil, I use Mobil 1 MX-4T (Racing 4T) and Mobile 1 oil filters in case you are wondering. I put the old filter on the bench and started to work on it.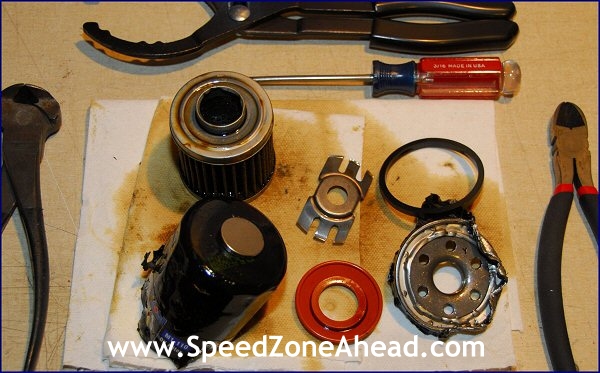 I dismantled the oil filter little by little avoiding any large movements and not touching the magnet the whole time. I was very impressed with the build quality of Mobil 1 filters! And you can see the magnet still on the end of the can in the above photo.
I turn it over and there it was, ...a ring of metal particles captured by the magnet. I thought to myself, well at least it's doing something, but didn't really consider it to be very effective, after-all it was a small ring of particles right?: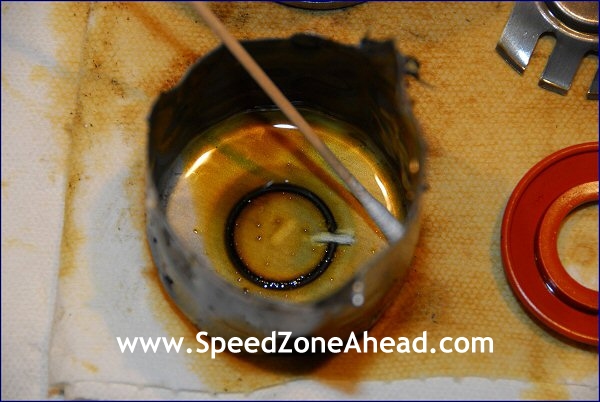 Then I started poking around with the Q-tip, OH-MY!, ...take a look see: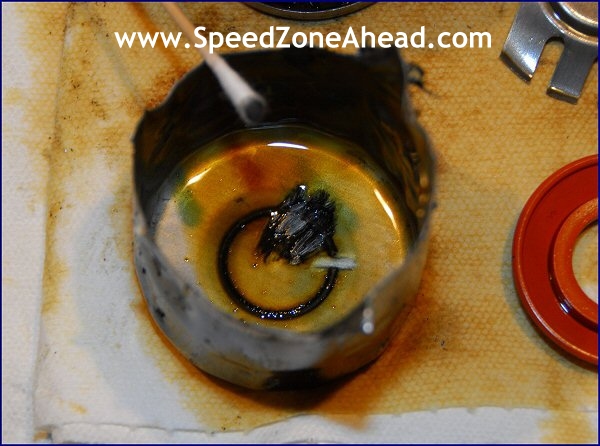 Then I did something that made me put magnets on all my oil filters, even on my cars, yes I hate to admit it, but I have cars, I added about a tablespoon of nice clean oil and stirred it up after removing the magnet. Well the tablespoon of nice clean oil became a black slurry with similar to metal flake paint you see on cars you cant afford. Unbelievable.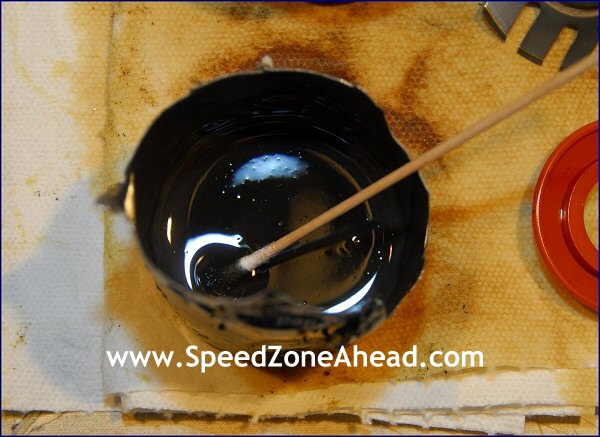 Here is another view of how much crap was packed into that little ring the magnet caught: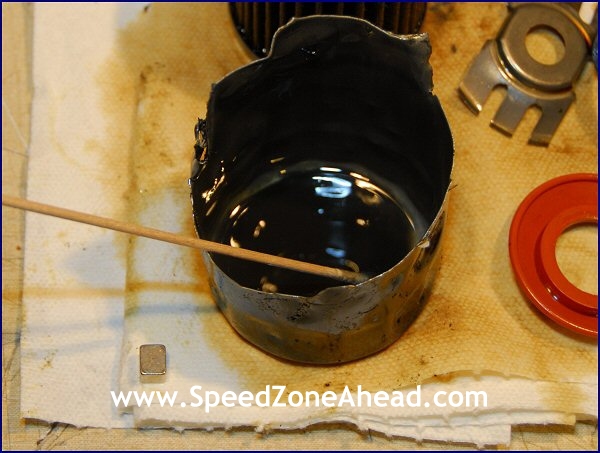 One last thing to try out. I decided to take a small block version of the magnet (you can see the magnet block in the lower left of the photo above) to the bottom of the now mixed fresh oil and the captured particles from about 3,000 miles of use and take a look at this: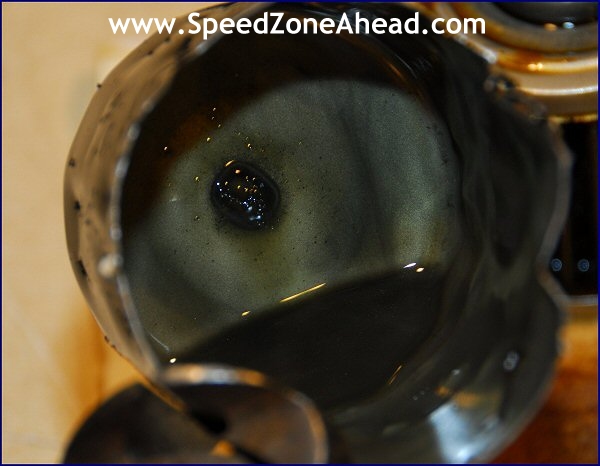 So, now I decided to add this nifty way to further filter your oil as another product on my website. You will receive one super powerful neodymium rare earth magnet, simply put it onto the end of your oil filter to provide more protection than the filter alone and happy riding. I love them. I hope you like them too! Thanks for reading this. Ready to install upon receipt and if you have any problems just let me know, my eBay feedback speaks for itself when regarding your confidence in my products!

---
---
---
SpdZn's Custom Colors Brake and Clutch Lever Covers Protectors


Custom Color Level Covers for Brake & Clutch Levers Protection!
Make No Mistake about it, ...That is DEFINITELY YOUR Ride Over There With the RED Levers
Do you go to bike rallies? Is your bike blending in? Have no fear!!! Install these custom level color covers and you will be able to spot your bike instantly! Colors available are: RED, YELLOW, BLUE, GREEN, WHITE, CLEAR, GRAY and BLACK. Installs in 10 minutes and is a perfect fit every time. Also, keeps gloves from turning black from aluminum levers! Industrial grade heat shrink type tubing even adds extra grip to your levers. That's like three birds with one stone: Helps ID your bike, protects levers from elements, increases grip, and keeps gloves newer longer, ...wait a minute that's 4 reasons to get these custom lever colored covers!!! Holy crap!!! You need 'em now. Can be installed with a hair dryer or a heat gun - be careful not to melt other bike parts / grips when installing.
As shown as installed, install time = about 10 minutes: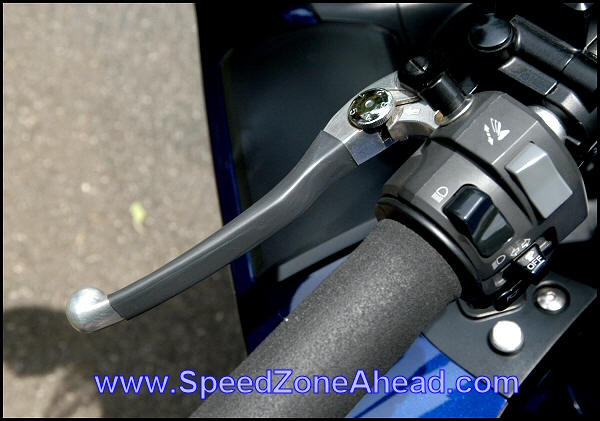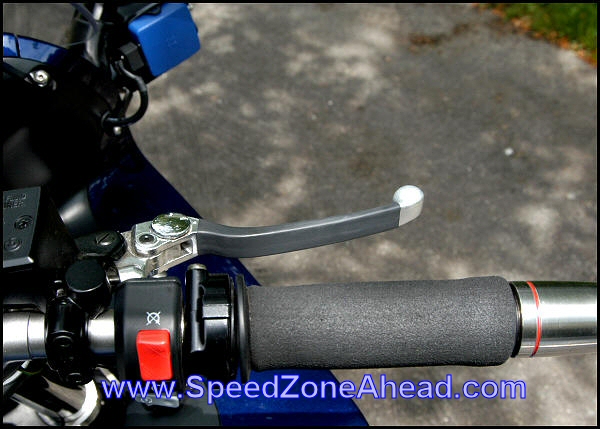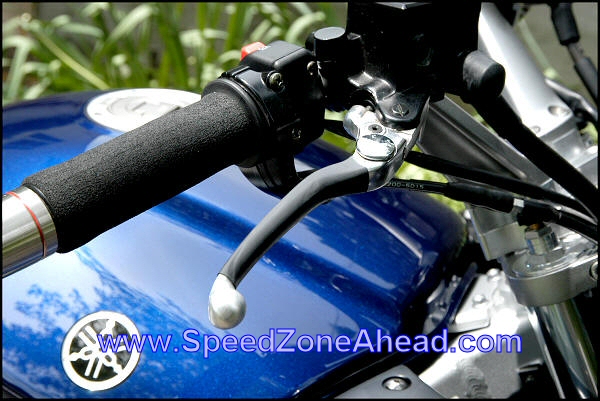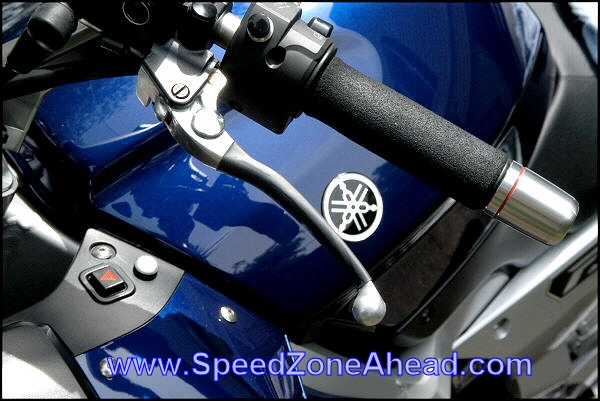 You will receive a pair of specifically cut lengths of tubing and instructions with nice color pictures on how to install. I have been using these lever covers for over 10,000 miles now and they really are a nice addition to my bike, I love them. I hope you like them too! Thanks for reading this. These are ready to install upon receipt and if you have any problems just let me know, my eBay feedback speaks for itself when regarding your confidence in my products!

---
---
---
Ordering Information - How to place your order
It' real simple, just click on the "BUY NOW" buttons by the short descriptions at the top of this page and follow the instructions. Or you can click on the button below and you will be redirected to our distribution website, which sells everything JF Industries Ltd / JFiLtd manufactures in one convenient online website:

www.MiscellaneousMerchandise.com
MiscellaneousMerchandise accepts most major credit cards through PayPal
Shipping to the Continental USA is included - There are no additional charges for these destinations
***INTERNATIONAL & ALASKA, HAWAII & PUERTO RICO BUYERS:***
PLEASE NOTE: SHIPPING WILL BE DIFFERENT THAN INDICATED FOR ANY DESTINATION OTHER THAN CONTINENTAL USA, YOU WILL HAVE TO SUBMIT YOUR ADDRESS AND WE WILL SEND YOU AN INVOICE FOR A TOTAL INCLUDING SHIPPING TO YOUR DESTINATION. PLEASE SPECIFY IF YOU DESIRE PREFERRED MODE OF SHIPPING AS WELL AS SHIPPING COMPANY, THANK YOU. USE THE "CONTACT US" BUTTON AT THE TOP OF THE PAGE TO EMAIL US AND SEND IN YOUR REQUEST, THE MORE INFORMATION THE BETTER, THANKS AGAIN.
Payment Instructions: Please include the full item description with your payment, with PayPal this is automatic. I accept payment made via PayPal (preferred) or money order and personal checks, to mail your payment, please email us your order and send your payment to the following address: SpdZn c/o JFiLtd, P.O. Box 505, Shokan, NY 12481, all payments must clear prior to items shipping. Please include as much information as you can with your order if ordering by mail.
A couple of words about this website: Picture files may be large and take some time to appear on your screen. What you see is what you get, unless specified. If you have questions about this item please send them via email and I will reply as soon as I can, (use the link provided at the top of the page: "Contact Us"). We professionally package & ship all items, usually the day after payment receipt, but definitely within five business days of receiving your order.

---
---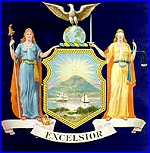 Based in New York originally from Shirley on Long Island New York, and now located in the town of Shokan near Woodstock NY: SpdZn c/o JF Industries Ltd / JFiLtd offers customizing kits for motorcycles and specially selected vehicles and other items that have something to do with speed or style, or both. SpdZn will be offering our items for purchase right here on this site or through JFiLtd's central distribution website: www.MiscellaneousMerchandise.com and on eBay -and we welcome everyone. From motorcycles to low-riders, to small, detail-orientated, specialty kits, keep a lookout for what SpdZn has to offer, we may have what you need. Our ideas are solution based, in other words if you have a problem and you would like to figure it out, let us know and we can help, and maybe we can help out other people who have the same problem you are experiencing. And we will do it with high quality parts and designs -never cutting any corners so quality is never compromised. The only corner cutting we keep in mind is price, we try to keep our prices as low & competitive as we can without discounting integrity. Currently the product line features solutions I have experienced myself in the cool world of Motorcycling Super Sport Touring plus some solutions friends of mine have come up with and now they are easily obtainable right here for your convenience and further moto enjoyment. If you have an idea please feel free to contact us via the links at the top of this page. If you have products you think you would like us to sell online please also feel free to contact us about marketing them for you. Our goal is to satisfy everyone's appetite for something better, sometimes even just for a higher level of quality, design or look, or function or any combination.
SpdZn also offers seller services for clients looking to sell items which fit the criteria for our site and a better auction experience to our customers. We will not sell or auction anything we have not approved of ourselves and only after we have had time to properly evaluate each and every product. This is just one of the few rules we conduct business under. We have been providing online auction services for over 12 years with multiple online shops, user ID's and various websites. We strive to bring an easy, trustworthy transaction to you, whether you are coming to us to sell something for you, or whether you will be buying from us, we promise to deliver exactly what is presented and always in a timely manner. SpdZn's feedback on eBay is 100% positive; this speaks for itself, showing we are always satisfying whoever we are involved with.
SpdZn is a venture of JFiLtd. You may have heard of other JFiLtd business ventures such as SimpleEasyAuctions where a team of dedicated auctioneers provide professional buying/selling services for online auctions for just about anything. You may have seen Vintage Value Group International, also a JFiLtd venture, which has been auctioning fine, museum-quality, vintage automobiles on eBay for real vintage car collectors world wide. Please visit the home page for Vintage Value Group, if you are into classic cars & automobiles you may find something here you might like. While VintageValueGroup offers cars of the late twentieth century, SpdZn will offer items from the more recent years and the present state of technology, regarding transportation ...the sleeker, the more refined, and the more technologically advanced era: the early twenty first century, or, as some people refer to it - right here, ...right now!
Thank you for visiting! - Tell your friends about www.SpdZn.com!


*SpdZn will not be held responsible for any effects and/or results whatsoever which may be undesirable from the installation of any kits, or customization accessories sold by SpdZn. User discretion is advised and SpdZn will not be liable for your misuse or any other nonsense. Sold as is. Non returnable. Non cancellable. Use at your own risk, don't be stupid and don't play in traffic. All item sold & advertised by SpdZn are designed to the best of our ability and are real-world tested. Don't drink and drive, live to ride, ride to live. Stop reading this and go riding already - Your friends @ SpdZn.com